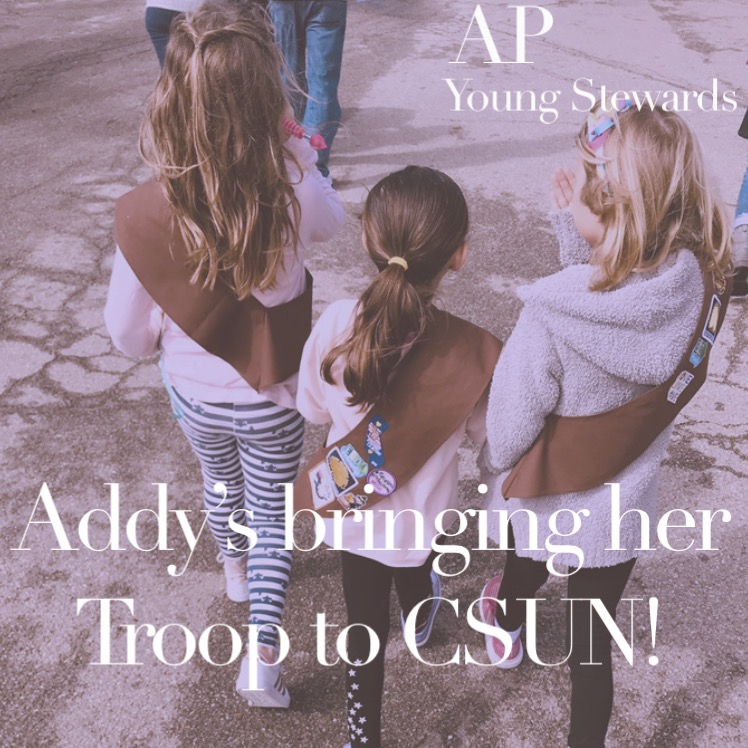 JOIN OUR FIRST AP YOUNG STEWARD at CSUN EARTH FAIR with 5 GYRES
Written by, Vanessa Cole April 5, 2019
As a CSUN alumni, I am proud of the California State University, Northridge sustainability efforts and programming they are providing to their students. I was first introduced to these efforts through our community alliance. Through this alliance, we will be attending the CSUN Earth Week event scheduled for Thursday, April 11th, 2019 from 10am-3pm as we introduce our first AP Young Steward, Addyson and her 6 initiatives for Plastic Pollution.
Addyson, who is 8 years old, has invited a few of her Girl Scout Troop members to be at this event with her from 10am-12noon, hoping to inspire many students to visit her newly launched AP Young Steward's Bio Page on the AddyPresLifeSTYLE platform! The girls will have the opportunity to table with 5 Gyres Institute and promote Addyson's work as both a 5 Gyres Ambassador and AP Young Steward.
Addyson is working to activate others through her TOOLS & HELPERS, which we assisted in connecting and providing outreach for. The AP Solver6 Activation Framework has been a key tool in taking Addyson's passion for Plastic Pollution to activation opportunities for communities. Addyson's goal is to invite as many teachers, families, students, organizations, corporations and mentors to use her page's initiatives and activate sustainable solutions for plastic pollution! You can find the 6 initiatives Addyson is working to activate on her AP Young Steward Bio Page, found on the AddyPresLifeSTYLE platform, from our main header Communities link.
College students are invited to activate Young Steward, Addyson's initiatives AND GAIN VOLUNTEER HOURS for their service. We invite all college students who are interested to visit the Young Steward's MAIN PAGE HELPERS TOOLBOX (FOR College Student HELPERS section), and download the tool, which outlines how to gain these hours for such important work.