MORE APYS MENTOR Activation RESOURCES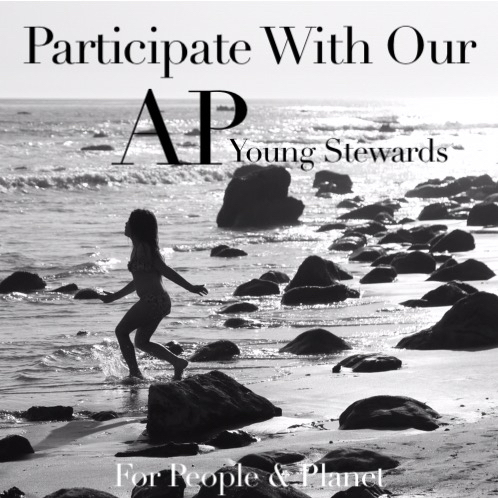 WELCOME APYS MENTORS!
Thank you for your dedication to activate sustainable solutions with APYS in your community! Please reach out to us with any questions regarding your activation: contact@addypres.org

---
TO BEGIN YOUR ACTIVATION
Please watch the Mentor Activation Video available on the APYS Mentors Program page, if you haven't already.
Then, download the APYS MENTOR ACTIVATION TOOL, to use in conjunction with the following resources.
FEATURED APYS TOOLS & VIDEOS FOR YOUR USE
FEATURED PLASTIC POLLUTION MENTOR Activation TOOL SET for K-5th grade students
Educators and College Mentors are welcome to use the resources we provide within classrooms and educational environments only. The objective is to create an experience that inspires youth to continue activating sustainable solutions found on the APYS pages.
The Plastic Pollution impact experience ranges in time between 30-60min., includes a video, art activity that becomes a student take-away tool and can be offered to students within the age of Kinder-5th grade. The activity requires a print-able download, found below & art mediums for each participant (see activity sample below).
APYS Plastic Pollution Kick-Start Activation EXPERIENCE VIDEO & ACTIVITY SET

Use this video tool as directed within the APYS Plastic Pollution KICKOFF SCRIPT TOOL (If this video is unavailable, you can improvise using the video on the APYS Plastic Pollution page with Addy)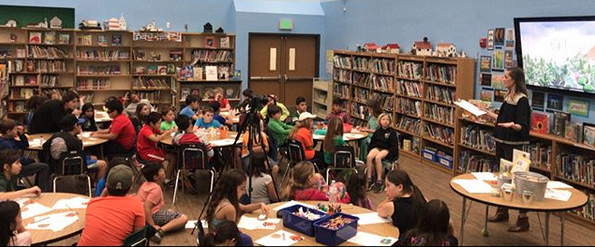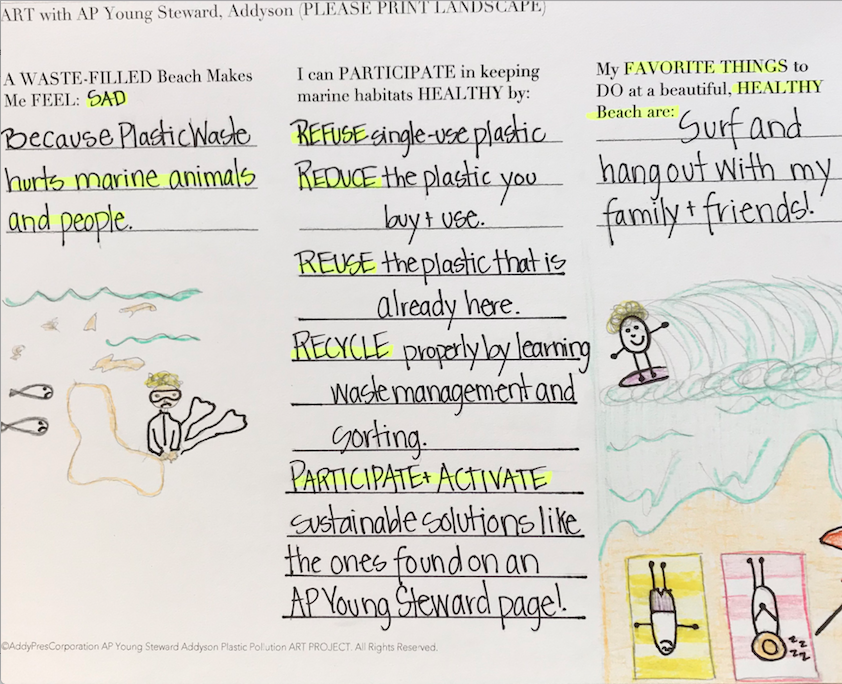 Art Experience Template Ex.
APYS Plastic Pollution Kick-Start Activation EXPERIENCE PRINTABLE TOOL
The activity template for students is a take-away that helps them remember and share the 5 things they can do to help plastic pollution after their experience. We offer two versions, both included in the download below: one for students who have the skill of writing and another for younger students who haven't learned to write yet. The activation script and video will walk mentors through this project.
Supplemental K-8th Grade SOLVER6 Curriculum: Plastic Pollution
This AddyPres original curriculum offers several classroom opportunities within a SEL and service based learning framework. We invite K-8th grade educators and education mentors to utilize this powerful curriculum tool.