Our Volunteer Day at Steve Sprinkel's Organic Farm
Written by, Vanessa Cole, June 2018
Our family is on a QUEST to participate in a BETTER food lifestyle because we've learned that our food lifestyles don't just impact our own family but a much larger picture that can actually regenerate our planet's health, if we all started to participate TOGETHER. This matters to us, and we hope our journey will inspire your care too!
We decided to visit organic farmer, Steve Sprinkel and his team of agricultural care takers, at his Ojai, California farm to learn more. Steve's been an organic farmer for many years, over 40 actually. Most of the people we talked to before our visit say you won't find a more qualified expert, and he was referred to us by some in the know people!
Our goal for our volunteer experience, was to teach our kids how hard people work to bring food to our tables and how important the sources of our food supply is for our health and the regeneration of the planet.
Organic vs. Regenerative Organic
Before our farm visit, we prepared our kids with some background. We wanted them to learn more about regenerative organic farming practices. Through our homework, we've learned that while ORGANIC certification is GOOD, REGENERATIVE ORGANIC progresses this positive certification even further to offer the BEST agricultural practice for our health, the humanity of bringing food to our tables and for the regeneration of healthy soil for generations to come. Simply put, Regenerative Organic improves the resources we're working with.
We utilized information we found on the Rodale Institute's website to talk about this with our kids. Then we introduced Addyson, our 7 year old, to a story book to help her understand these practices and how they apply to gardens, food chains & food webs. We had fun drawing food chains & webs with watercolor and oil pastels, and, even our 11 year old son, Preston gained insight by eavesdropping on the storybook while he sketched too!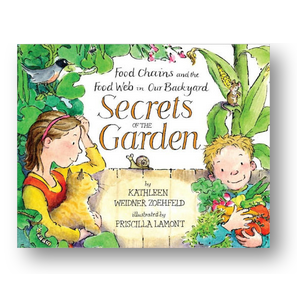 Food Chains & the Food Web in our Backyard: Secrets of the Garden by, Kathleen Weidner Zoehfeld & Priscilla Lamont
Your Barnes & Noble purchase supports our community & education work, THANK YOU!
Our Day on the Farm
Beyond books and conversations, there's no better way to learn than to EXPERIENCE. Steve's farm and the organic restaurant he and his wife, Olivia own a short distance from the farm, provided the perfect opportunity! Our kids had the chance to work the field and see how the food they picked goes to market to bring nourishment to the community and provide a living to Steve's family and the others who work with him.
We arrived early in the morning, when the fog still covered the fields. It was beautiful and chilly. We were greeted by a barefoot "surfer" looking gentleman who introduced us to everyone else and got Preston some boots to borrow... his lace-less VANS tennis shoes just wouldn't cut it for the day's work he was about to do!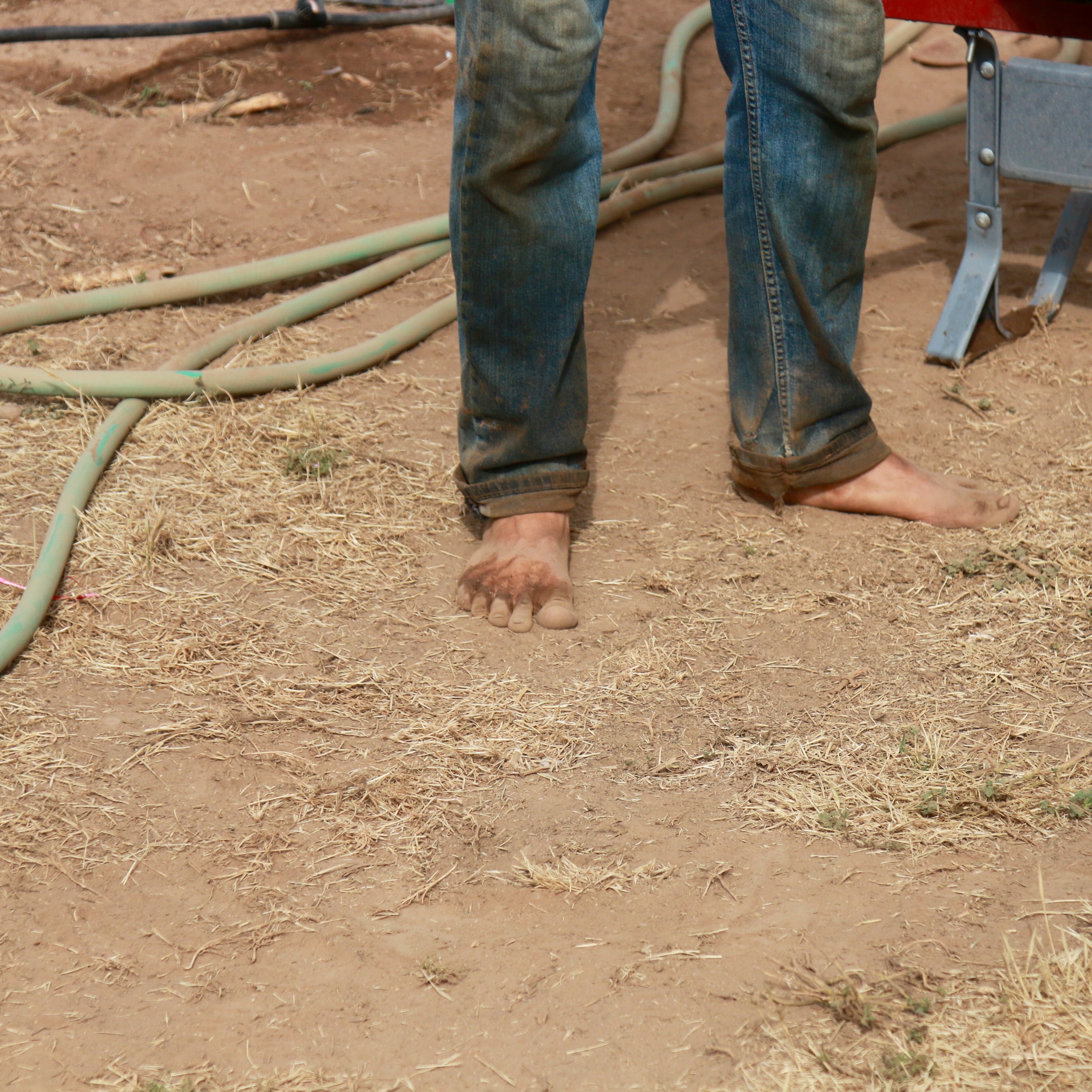 Everyone we met was really friendly, especially to our kids, offering insightful information that enriched the experience.  We had an informative introduction from Steve while we walked to the field where potatoes lay ready to be plucked from the rich soil. Steve drove a tractor over the field, all the way down the line, a metal tool dragging through the soil to lift the potatoes we would uncover, and put into buckets... along with other fun discoveries like frogs and potato bugs (but no snakes, thank goodness!)

Between our family of four, Steve's direction and his team of 3, we participated in the regular farming day and managed to pick a full tractor load of beautiful, organic purple potatoes, two box loads of flowers, hold a toad we found in the field, be introduced to potato bugs (these things are HUGE!), get down in the dirt, drink from a hose, feel the heat of an agricultural field with work to do, take in the beauty of that field at dawn, smell and feel rich, healthy soil and make a stamp on two little people's lives.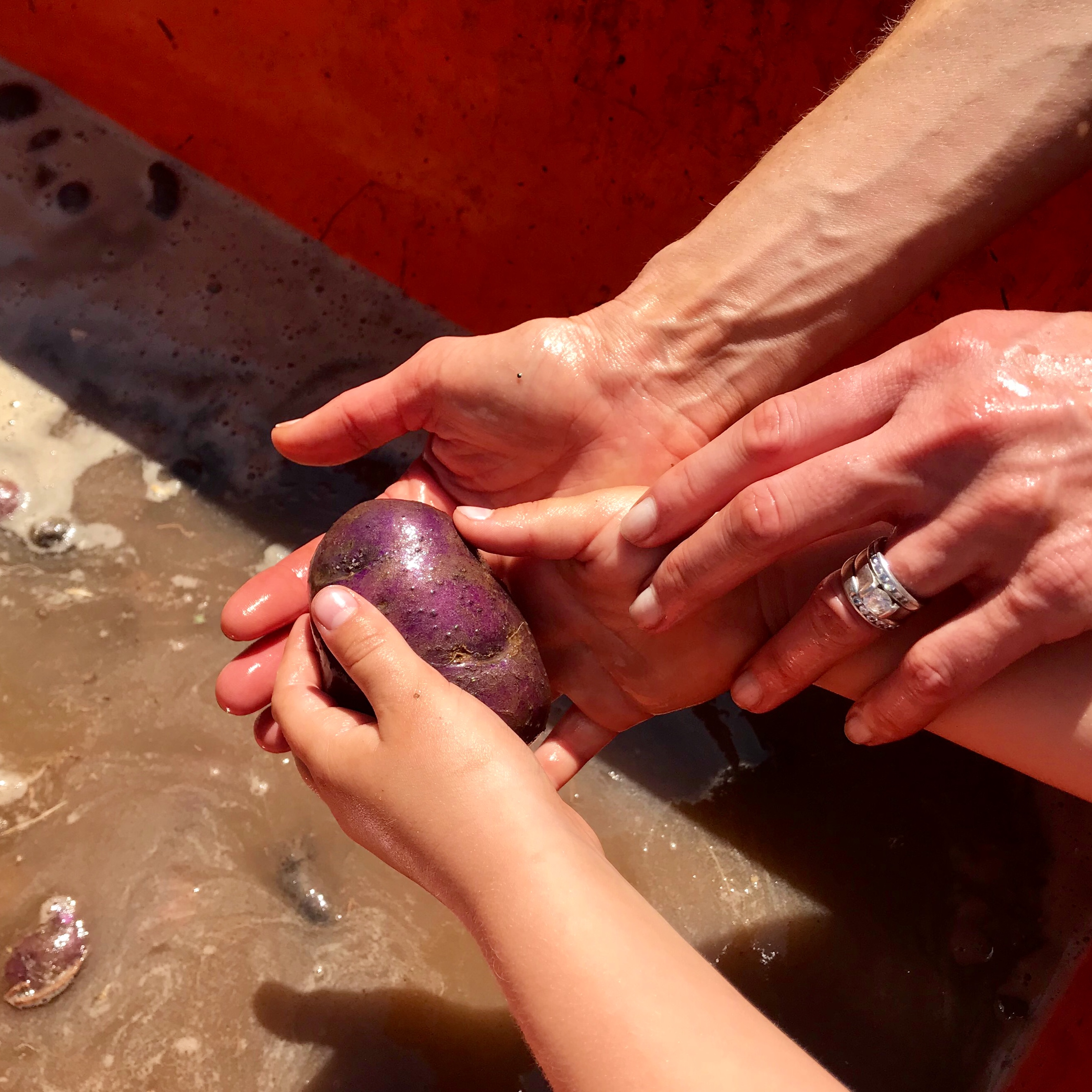 After picking, we hurried from the field to Steve & Olivia's store in order to contribute our day's pickings to the other offerings Steve's team had done before we arrived. This, fresh from the field produce, went into about 32 boxes that would be picked up by local residents who participate in the Community Support Agriculture Program. Each local participant receives a weekly, seasonal offering within the box from Steve's farm, for a pre-paid fee. This program supports local farming and value for fresh organic produce and the health it provides.
Our family took a needed break in the shade of the outdoor patio in front of the restaurant, which is fittingly called The Farmer & the Cook, specializing in a seasonal, organic offering of FANTASTIC fresh food & beverages served in a simple, local vibe restaurant where shoes are optional, smiles are abundant and lively and creative conversations can be heard coming from every table. Our kids had organic burritos and Chad and I shared vegetable tacos made with fresh, hand-made tortillas and grilled veggies, they were exceptional.
By the end of the experience our family was tired, but inspired. Addyson, our 7 year old really took IT ALL IN, with that young fire that we should all work hard to preserve as the adults and educators who hold opportunities to nourish this natural curiosity with impactful, real life opportunities that keep it alive. As the adults who guide these opportunities, we should never take for granted the responsibility we have to inspire a better world through their beautiful curiosity.
TIPS we Learned from Expert Steve Sprinkel for our next visit to the Local Farmers Market

While in the field, I asked Steve the best sources when purchasing produce for our family, he said local farmers markets are best but even those require some scrutiny these days... we developed the following list of questions to help your family make your next farmer's market visit a participation opportunity that can improve practice:
Questions to ask your Organic Farmer's Market Merchant:
Question: Do you use hydroponic farming practices? (This is a method of growing plants in a nutrient rich water solution as opposed to soil, learn more here)
Background: Hydroponic farming is a great solution for challenges we face in our food system, but it is different than organic agriculture that utilizes healthy soil and should be classified as such. The consumer should know their produce came from hydroponic practice.
Question: BY WHOM is your organic certification from?
Background: We offer the following link for this helpful information. CCOF: What is Organic?
Question: What crop inputs do you use on your fields? ( fertilizers, pesticides, herbicides, fungicides and soil amendments are all crop inputs)

Background: Organic farming and agriculture is impacted by many factors, delving in to learn  about the seeds that were planted, and all the practices between how they were cared for, tended to, harvested and brought to market impact the health of the product you will feed to your family and the impact that will have on whether that field will regenerate to produce food again. We offer the CCOF & Regenerative Organic Certified websites to guide your questions.
An important thing to remember in the part we all play within the food system, is our PURCHASE POWER. If we REFUSE to purchase when the standards don't meet our health demands, we exercise our shop power for healthier alternatives. REGENERATIVE ORGANIC is the BEST PRACTICE, ORGANIC is GOOD, NON-ORGANIC is not recommended for your health and the health of the soil that will or will not be regenerated through our practices.
WANT TO HAVE A FAMILY VOLUNTEER EXPERIENCE?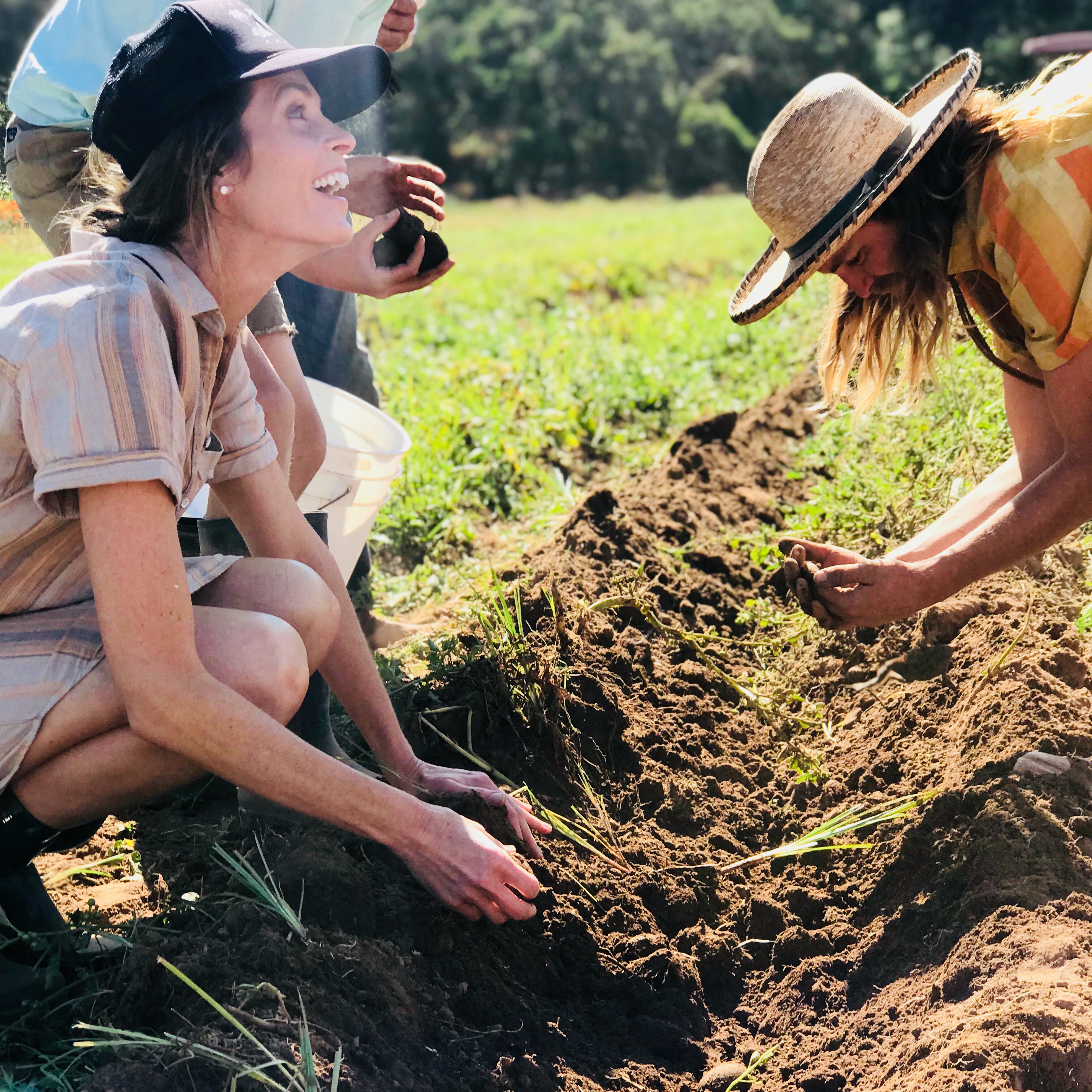 If you'd like to volunteer at Steve Sprinkel's Organic Farm, Rancho del Pueblo located at 370 Baldwin Road in Ojai, CA., Steve welcomes the help on Wednesday and Thursday mornings from 7am-11am in summer and 8am-12 in the winter. We suggest bringing a hat, gloves, boots, clippers & water... and wear sunscreen, of course!  READ Steve Sprinkel's stewardship profile
What's Next?
We're looking forward to our next exciting life lesson... composting and food lifestyle, with David White of Ojai, CA. Connect with us to ask questions we can seek answers to and share with you, through our journey!