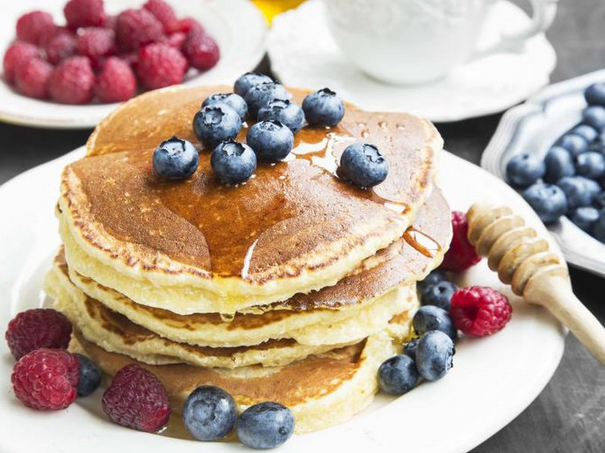 Tasty Almond Flour Pancakes!
In our effort to eat healthier for people and planet we just COULDN'T give up pancakes... in fact we're finding ways we don't have to GIVE UP much of anything... and yet are still finding ways to get healthier and eat more sustainably. We're not ALL OR NOTHING people, so our pace isn't either... we feel good about our BETTER contributions and we like sharing what we've found. SO....
ENJOY! These pancakes were really tasty and passed the KID TEST!
*Thank you The Nourishing Home for the great recipe! We added fruit to give the cakes a little sweeter flavor... be sure to heed the warning, DON'T OVERCOOK.
RECIPE FOR ALMOND FLOUR PANCAKES
Ingredients
1 1/2 cups blanched almond flour
1/2 tsp baking soda
1/4 tsp sea salt
3 large pastured eggs, room temp
1/4 cup pure, organic coconut milk
1 tbsp unsalted butter (or coconut oil), melted
1 tbsp maple syrup (or honey)
1 tsp pure vanilla extract
1/4 tsp apple cider vinegar
1/2 banana
1 cup fresh organic berries
Directions:
Preheat griddle over medium heat
Place all the liquid ingredients and fruit into YOUR BLENDER, then place all of the dry ingredients on top. Cover and blend on low to start, then increase to high and blend at least 1 full minute.
The batter will be very thick, resembling corn bread batter, we used the organic coconut milk to measure tablespoons until we gained the consistency we liked.
Grease preheated griddle with butter (or coconut oil)
Ladle a spoonful of batter onto the griddle to form a "silver dollar" sized pancake, or larger if you prefer.
Cook for a few minutes, just until the edges start to dry out and the bottom begins to golden. THESE BURN EASILY, so be sure not to overcook.
Carefully flip and cook another few minutes until cooked through but not over-browned.
Serve hot off the griddle with butter, jelly, syrup or cut fruit.
ENJOY the connect time with your family!!