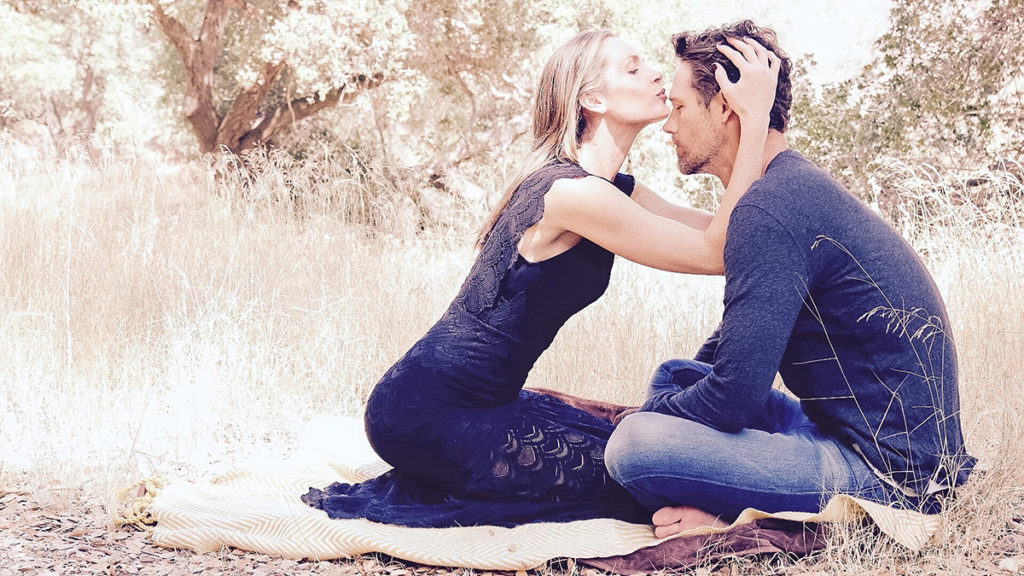 Rolling With Change When Date Night Ends Up: AT HOME
We all know that dating and connecting with your partner is a fundamental component of maintaining a happy, balanced family. The question of how the heck to schedule it in AND make it worthy of being called a date, among all the other things we juggle as parents. Here lies the question to answer. Have you ever been on a date with your husband or wife and been so tired you just didn't have anything more to say? Not really a dream date in my book, but I can sadly say, "Yes, I have."
This was the driving force to change my mindset on what a date MEANT to us, and our relationship--- and made "dating" as big a priority to us as planning the next play date or athletic event for the kids. All jokes aside, a healthy marriage is what positively or negatively models to our children what they can expect in a relationship later in life. If you model a healthy, warm and loving relationship with your partner it helps you feel happy and your kids feel secure, teaching them how to handle interpersonal relationships with affection, warmth, conflict resolution, respect & kindness for one another. Deciding to actively date your spouse by making the effort to step outside the box and create something romantic, warm and full of connection with whatever time you can allocate to each other is a great way to keep your relationship healthy and balanced, benefiting the family unit.
Listen, if you're too busy to date your mate, an answer is clear: Time to Simplify your life's obligations! Perhaps you just need a more "do-able" perspective on what a successful "date" can be...
Recently, one of our "date nights", went a bit awry---after completing all the prep work (moms, you KNOW how much effort this takes!)— I had the dress, the nails painted, hair blow dried, the self tanner applied, I was all set for a romantic night out!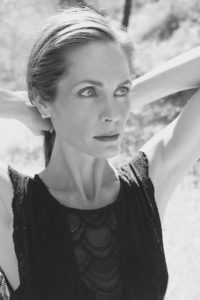 THEN:
The Unexpected Babysitter Cancellation!
****UGH!***
This ALMOST ruined our date night, but instead inspired a healthy lesson of "rolling with what life hands you" and led to a fun night with the kids... even squeezing in a little romance [wink].
TIP: WHEN this happens to you, take a deeeeeeep breath…………...... and PLAN the rest of your night, INCLUSIVE of the kids. You need to plan something, otherwise, you might just succumb to disappointment and your mood will reflect this. A plan will insure the night can still be special for all of you!
Our date night still WORKED OUT!
Four, prioritized tasks hit the forefront immediately:
#1 Priority: How we could keep the kids happy and engaged so we still had a moment to connect alone AND sip a cocktail while having an UNINTERRUPTED conversation.
Solution #1: (NEW EDIT!!! AddyPres Solver6 For Families is an EXCELLENT solution here!!! ) An ACTIVITY! I planned an activity that would encourage our son to help his younger sister (NOTE: I didn't say fight with, so consider these triggers when you're planning your craft). I picked something simple that would allow our son to encourage his sister & teach him responsibility along with the great feeling you get when you teach little ones (including his sister; who most days, I swear they're going to strangle each other!!) — it had to be interesting enough to engage them both, with their 4 year age gap, but simple enough for them to do on their own. By engaging our son to teach our daughter, we eliminated the issue of needing an "age appropriate for both situation" lending way to something fun and simple requiring no adult intervention or supervision once they got into it— this was key.

#2 Priority: How could we make the night special, instead of "run of the mill"?
Solution #2: Break out the recipes, be sure to include a festive cocktail (if it applies) AND Plan to GET DRESSED WITH MAKEUP, HAIR and "SMELL GOOD" so you FEEL great and inspire a mood. Even if you decide to go casual and comfortable, GLAM up past the USUAL, I promise, it sets a tone for you both.
#3 Priority: Head to the Grocery Store!
Solution #3: Make two grocery lists (and if you need to, a list for the craft store to get anything the kids will need for their project.)
TIP: Why two grocery lists? One for you (to be sure you don't forget anything important) and one to give to the kids to shop. This can be a great lesson op in autonomy and responsibility during a mundane errand.  By keeping them engaged and happy,  the mood of the day remains upbeat. Seriously, it's adorable to watch them so responsibly shopping & working TOGETHER! You may even WANT to take a picture, YES, at the grocery store!
#4 Priority:  Include the kids in preparing dinner AND setting up their craft project.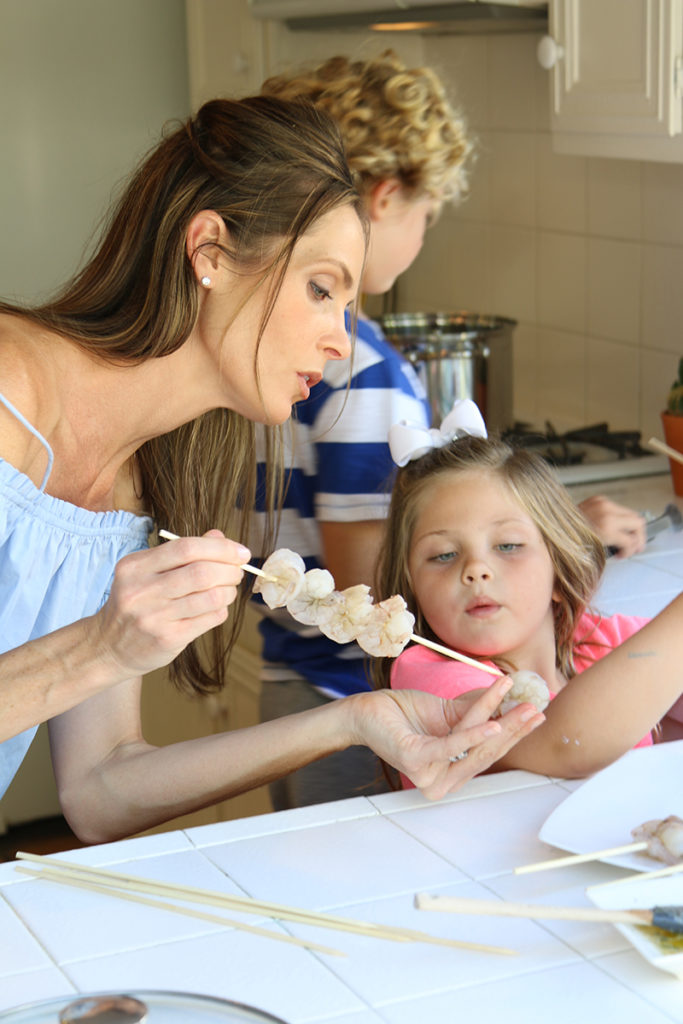 Solution #4: This lets them ask you any questions they might come up with for the project, helps you all feel engaged in family time together and gives you the guilt free, OK to break away for a little alone time with your partner, while they complete an amazing project to WOW you with later!
Final TIP: When we plan a date, we are sure to fill the kids "lead up" day FULL, so they are worn out and bedtime is a non-issue because they're so tired. This day was no exception, which ended up working out great! They completed their night time routine without hitch and were in bed, asleep by 8:30!
Ahhhh BALANCED Success. It took just a little planning and cooperation, leading us toward a great night, at HOME that was nothing near a disappointment!
The Recipe
We found our recipe in: Easy Entertaining "Simple Recipes for Every Occasion" by Ryland Peters & Small. We tailored the recipe to meet our kids sometime finicky taste buds and our more Mexican flare…(and added a couple hot dogs to the grill for our Addy Girl), the alterations to the original recipe are in parenthesis below. If your kids aren't big shrimp fans, substituting grilled chicken is just as tasty!
Herbed Tagliatelle with Shrimp Skewers
A lovely, summery dish, which makes the most of garden herbs. Serve the shrimp on skewers to make it an occasion (also makes them easier to turn while cooking)! Serves 4
Ingredients:
12 oz. dried pasta, such as tagliatelle, linguine, or fettuccine
24 raw jumbo shrimp
You'll brush this onto the shrimp:
2 garlic cloves
1/2 teaspoon red pepper flakes (set aside and add to marinade AFTER you've done the kids skewers— these are spicy!)
1/4 cup Olive Oil
1 lemon, cut into 4 wedges
You'll toss this in with the pasta:
1 teaspoon chopped fresh rosemary (we aren't fans of rosemary so we substitute cilantro here)
2 tablespoons chopped flat-leaf parsley (we don't add this herb either)
1 tablespoon chopped fresh chives
1 handful torn organic arugula (we omit this for the kids, but love it with our adult version)
1/2 cup Mexican Coteja Cheese, finely shredded (our special add in!)
Sea Salt and freshly ground pepper
4 Wooden skewers soaked in water for 30 min.
Directions:
Bring large pot of water to boil, add a pinch of salt and add pasta. Cook until al dente, or until timings on package.
Meanwhile, put shrimp in a bowl, add garlic, red pepper flakes, 1 table spoon olive oil, salt and pepper to taste. Mix well, then thread 6 shrimp on each skewer.
Preheat grill, add shrimp skewers and cook to liking… about 3 minutes each side, until pink and cooked through. Remove and keep them warm. Add the lemon wedges to the grill and cook quickly for 30 seconds, each side.
Drain the pasta and return to warm pot. Add the remaining oil, herbs, Mexican Coteja Cheese, salt, & pepper. Toss gently and divide between four warm bowls. Top each with shrimp skewer and a lemon wedge for squeezing, then serve.
We also made a great Cherry Lemonade Cocktail- completely heavenly, made the night less "run of the mill" and totally worth the effort!
Recipe from "Summer Food, New Summer Classics"
By, Paul Lowe, Nina Dreyer Hensley & Jim Hensley
TIP: This cocktail tastes just as good (well almost! Can't beat FRESH!) if you use store bought lemon and cherry juice, and saves you tons of time from the fresh version, no blender needed.
1cup Lemon Juice
6 1/2 oz. Fresh Cherries, pitted
3/4 cup sugar
Dark Rum for topping
Sparkling Water for topping
Toss cherries, lemon juice and sugar into a blender. Blend until smooth. Pour mixture into a pan and simmer over medium heat until the sugar dissolves. Let Cool. Top with dark rum and sparkling water and serve over ice. I add a green garnish for aesthetic appeal, either cilantro or mint. ENJOY!
The Looks: My wardrobe can be found at Sharon Segal Nina Segal: The Closet (Westlake Village, CA and Santa Monica, CA). Photos taken by Chad Cole